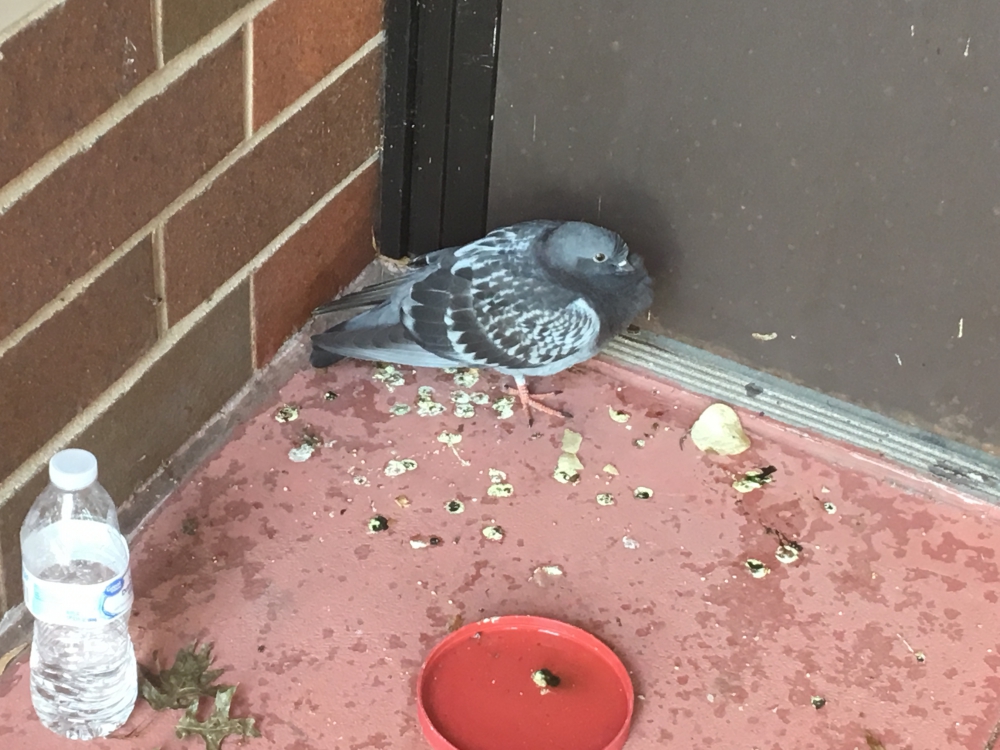 The pigeon has got it right. He's the talk of the folks in our 8-story office complex. Pigeon has been huddled in the corner near the entrance for three days. One animal lover in the building has given him chips and a red plastic lid filled with water.
One night as I was leaving my practice, I saw pigeon trying to fly. His wing was obviously injured. My guess is that Mr. Pigeon was avoiding being a snack for Mr. Falcon who patrols from the roof.
I googled pigeons and was surprised to learn that they are smart birds. Not normally a fan of pigeons, I had to admire this one for his ingenious plan. Instead of being out and about where he could be preyed upon; he found the perfect place to get better while getting free take-out.
A person having undergone open heart surgery takes several weeks to heal. Healing comes, but it takes time. Leaving the hospital does not signal that the patient is 100%. In many ways the recovery has only begun.
In the physical realm we accept that the body needs time along with proactive measures to regain health. Often, we don't accept that recovery is also important when the problem is emotional in nature.
Those who have been tragically affected by Hurricane Michael can expect the recovery to take time. Not only will it take time to try to rebuild what was physically lost, but it will take time to emotionally recover from the trauma. Life will never be the same for many.
What does recovery from significant loss look like? The beginning point is not to live in denial that we've experienced a heartbreak. If we try to carry on with life as if nothing significant has happened, the grief will eventually catch up to us.
Emotions buried, get buried alive. And these unprocessed emotions come out when we least want to experience them.
Similar to the physical realm, when we experience a significant loss it is best to give ourselves permission to go slower—focusing on self-care. Sleep is critical. For many, sleep is one of the first things to go. Getting unplugged electronically at least an hour before bedtime can make a huge difference. Exercise and eating healthy are also important. It has been shown that people have an increased risk for a significant illness after a loss.
The physical, emotional, and spiritual are interconnected.
***We don't get to vote if we want a loss: but we do get to choose our recovery.***
And the God of all grace, who called you to his eternal glory in Christ, after you have suffered a little while will himself restore you and make you strong, firm, and steadfast. 1 Peter 5:10
***There is a sign-up on the Home Page to receive these weekly blogs.
#Grief #Loss #Christian #Counseling #HelpHopeandHealing #Author